Member's groups
There were no groups found.
Bio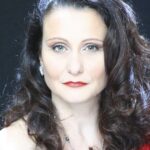 Christine Grimandi
Director And Coordinator Of Music And Acting Department
Christine debutta giovanissima sotto la regia di Beppe Menegatti, a fianco di Carla Fracci, Mireille Negre e Amedeo Amodio, in Les baiser de la Fee di I. Stravinskij: di questa esperienza ha scritto un paragrafo in Houses of Europe pubblicato a Londra e a New York. Debutta prima nell'Operetta e poi nel Musical. Interprete in Cats a Hamburg, la dirige Gillian Lynne e debutta in Cats a Parigi (Bombalurina e Grisabelle) al Theatre de Paris. In Germania interprete in Buddy Holly Story, West Side Story, Into the Woods. Interpreta Miss Potts in Beauty and the Beast e incide sotto la supervisione musicale di Michael Koz Kosarin. Scoperta dagli inglesi David Grindrod e K. Blodgette interpreta dapprima Heather e successivamente Norma Desmond in Sunset Boulevard in Germania. Rientra in Italia e interpreta la Monaca di Monza nei I Promessi Sposi, la Madre Superiore in Tutti Insieme Appassionatamente diretta da Saverio Marconi, è Anfisa ne Il Paese degli Idioti diretta da Alvaro Piccardi, interpreta la Vice Regina nel Masaniello diretta da Tato Russo. Nel 2015 debutta a Londra nel ruolo di Madame Grushinskaja in Grand Hotel diretta da Thom S. Southerland, supervisione musicale di Simon Lee. Nel 2017 a Parigi crea il ruolo della Madre nella nuova produzione A Cuba Libre, regia di Emmanuel Suarez e direzione musicale di Raphael Sanchez. Christine ha inciso i dischi delle produzioni teatrali, ha lavorato in radio, televisione, ha preso parte a diversi concerti e ha interpretato Film e Fictions (tra altri Wiedersehen in Verona e Vento di Ponente). Resident Director, Assistente di regia, Co-Director di numerose produzioni teatrali tra le quali Il Ritratto di Dorian Gray vincitore di numerosi Italian Awards. Durante la sua carriera artistica è stata più volta nominata agli Awards e ha vinto il premio Fantasio International Price Regie nel 2009. Per la produzione di Les Dix Comandements regia di Elie Chouraqui e coreografie di Camel Ouahli, le è stata affidata la regia italiana dello spettacolo. Christine parla inglese, francese e tedesco e da anni insegna, scopre talenti, scrive e traduce testi.
When "lockdown" changed our lives compeletely, for many artists it was the beginning of complete despair. After yet another sleepless night, I decided to do something.